Pioneer have just announced they will be releasing a new media player, akin to the XDJ-1000 but cut down for the more budget restricted DJ. Set to be released in December at just over £500 each. This is not to be mistaken for a CDJ as there are no CD drives, it gets it's music via USB stick or HID software connection with
Rekordbox
.
There's no doubt this is still an expensive piece of kit considering you'll need at least two and then a mixer on top of it, taking the cost well above £1000 but by the look of the features, it may well be worth it. For one, it allows Pro DJ Link allowing four to be linked up, providing a cheap means to having four decks at once, whether it is four XDJ-700s or another two in addition to other players.
It features a touch-screen much like the XDJ-1000 media player. 7 inches across, it will be more than sufficient for using it's QWERTY keyboard to search tracks and perform cues and loops on screen.
It has a reduced platter size to accommodate cost and smaller area making it suitable for "even the smallest booth" however it is disappointing that there are no LEDs is the centre or on the outside to indicate the rotation and position of the platter. This features on all the higher end gear such as the XDJ-1000 and CDJ-2000 units, making it very easy to scratch and maintain the fullest control.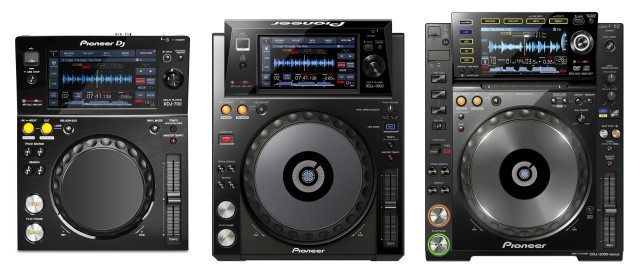 As you can see the XDJ-700 (left) lacks the ring of LEDs in the centre
that provides valuable insight.
It sits significantly lower than the counterpart equipment too, requiring a stand to allow a flush surface with mixers or other CDJs/Media players, something I hope Pioneer don't sell separately.
While lacking in more professional features such as a digital output, vinyl speed, and reverse track, it looks like a very complete setup that can be used to great success with or without software. And for a DJ or venue with a limited budget looking to expand or replace a booth, then these units look like an extremely good option.