Today's interview brings us Aidrian Novion, of Philanthrobeats in Glasgow, Scotland. This is Audio Ordeal's fourth interview so far so if you haven't already checked out the others, they are linked here. Please do check out the linked tracks as inspiration comes from everywhere, and enjoy!
Tell me a bit about Philanthrobeats and what it is
Philanthrobeats is a collective, social enterprise and charity based in Glasgow, Scotland, which has organised events and club nights to supports initially various causes and charities, but now we also run a few community projects to support free expression and activism.
I have been involved with generating ideas and help running some events, and it is where I started DJing in a live situation. One project proposal we would run in the future that I'm really passionate about are DJ and music production workshops for people in disadvantaged circumstances who would like to DJ, get help produce music but can't afford equipment or don't have access to the right people.
Give a brief description of your styles/genres
The styles I would play most are House, Disco, Funk, Electro, Italo, Vaporwave, Celtic Fusion and also some Northern Soul, R'n'B and Britpop.
For DJing, I use at home two android tablets with the app Djay and iRig Mix mixer, and usually play off CDJs / XDJs in venues.
Then for production I use Audacity, Garageband 9, AudioSauna, and various other web apps.
What gear do you have your eyes on?
I will be looking to use the digital editor/workstation Reaper, as it will allow me to do automation on every effects, group tracks and get customised effects through VST plugins and integrating MIDI… in brief be able do with greater flexibility the more complex work I do with Garageband.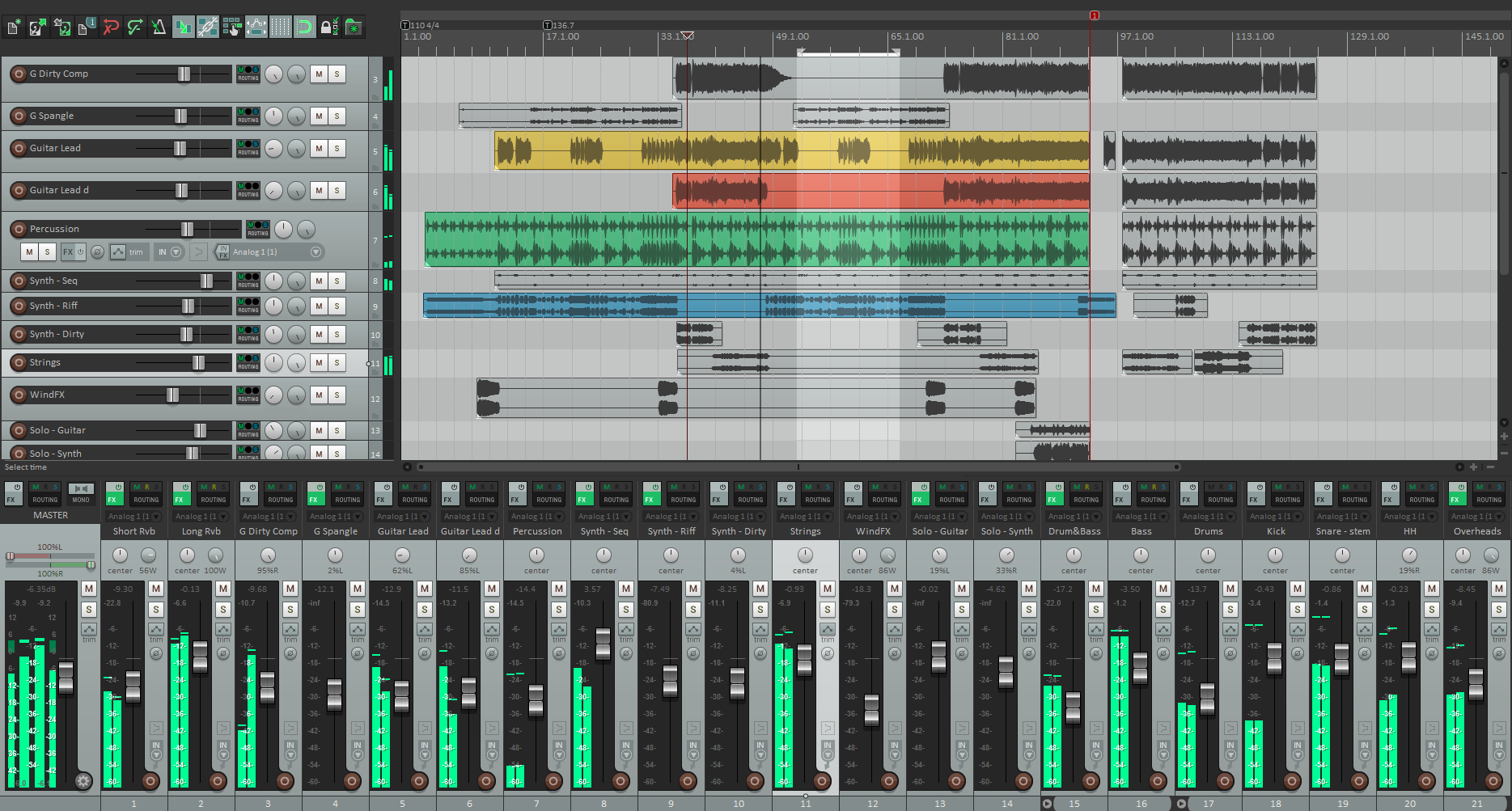 Reaper
Most importantly I would say I'm a lot keener to do collaborations rather than acquiring bits of equipment for myself. I'm into circumstances where not having permanent housing nor the space as well as almost not getting any income would prohibit me from acquiring physical devices, but also in a good way, to make use of what I'd have best and more creatively rather than having stuff I may not use that much.
On that note, I would to see emerge clubhouses which would consists of shared analogue equipment and a big vinyl library (like public libraries for books), which would make easier for maintenance, replacements and recycling of records or parts as well as making it more affordable and more fun.
At last I'd say I'm not keen on having nor using Ableton as a lot of people think it's a must have… for me it's like the big supermarket chains crawling all over the place shutting down the local small businesses that really makes the community. Also I did use the program while at college and I found the interface very impractical!
Digital it will be mainly for a few reasons: some that I mentioned regarding gear and storage in the last question but also for the fact that a vast majority of new music, especially from many obscure, unknown artists would only be available in that format when it comes to play their tracks. I would love to do more work and experiment using Analogue stuff but only when with other folks.
Who would you say your biggest inspiration has been musically?
There's been a few really… in particular Quincy Jones, Michael Jackson, the Beatles, early stuff produced by Motown and some produced through Stock, Aitken, Waterman.
When I played tunes for an afterparty that was part of an event focusing on recycling and sustainable practices at SWG3 club with a charity Radial, it was the first time I played for a dancing crowd and with a louder sound system so it was great learning experience.
Probably the very first one I did, because I experimented to edit the audio of the tunes files beforehand to get a similar BPM, and ended up having set with a lot of slowed down stuff, still some stuff did sound interesting as the results like having Steely Dan in a reggae style. During the same gig, I mistakenly changed the speed of the live record instead of the one I was to preview. That was using Serato vinyl control.
What's your thoughts on sampling and sample packs?
Sampling is probably the best thing that exist in music, as it's where we can use everything to be an instrument from birds to everyday life objects! The sampler in my opinion will be the ultimate instrument.
Samples packs for me are quite useful for making video soundtracks or radio stuff (idents,adverts...) but now i'm more cautious in using them for my own music tracks as it's possible someone else could have used the same loop(s)
What song do you wish was yours?
Kool and The Gang - Get Down On It
A really smooth jam that will be on top of my list – I found myself singing it on random occasions.
What is your guilty pleasure musically?
I used to listen and still on occasion stuff from Peter Andre, Rick Astley, Justin Timberlake, East 17, S Club 7, Usher, Craig David…it's usually the instrumental version I'm the most into. Oh and not forgot Vengaboys 'we like to party', and some less known tracks from the Spice Girls.
Best produced album of all time?
Change "This Is Your Time" by Change
While being a disco & funk album, there are a few variant of musical styles on that album, also some of the riffs and sounds reminds of Celtic music, I'm a big fan of, and in a way, I wish this was an album I've made.
Make albums with Quincy Jones, Niles Rodgers, Giorgio Moroder, Cerrone, Jimmy Jam & Terry Lewis, Janet Jackson, Jocelyn Brown, De La Soul… there's quite a big list of artists I would love to work with. Every collaboration with an established artist or producer is part of the dream.
Can you link some of your songs for the readers?
Own Produced Tracks:
Remixed Track: "Unto You" by Jordan Bull
DJ Mix: Italo Disco on Philanthrobeats