After her
latest release
on Spotify, I caught up with Nikki Lamont, a Scottish singer-songwriter to discuss her music and creative processes. Nikki describes her music as "lyrical ambient pop", her sleek vocal style and catchy lyrics are a warm wave over the listener. This article will be the first in a series where young musicians and producers help me explore a variety of talent and music, with the goal of inspiring other musicians to follow suit.
So what got you into music?
I began getting into music in early high school, I started getting guitar lessons and since then I knew it was my passion and what I wanted to do with my life.
You've now released a few tracks, which one is your favourite?
I think my favourite song from all my releases so far is 'What I Would Do' I actually wrote it a long time ago and after revisiting it again to record, it had changed a lot and I feel as if it's a song that I've grown up musically with.
What was the studio process like for recording each of these tracks?
The studio process was such good fun. We went to Mark Morrow Audio to record for the day and we actually ended up writing a lot of the parts for the song on the day.
(Mark Morrow Audio)
Did you assume the role of

the producer

when in the studio, or did you let someone else advise you?




In the studio, I assumed the role of the producer. My band and I made different decisions together but in the end, I decided what I wanted to go into the song.






How different are your mastered tracks compared to the original concepts in your head?
The mastered versions of my songs were quite different to the originals. I had written them quite acoustically but going into the studio and hearing the sound we came out with, I loved them the way they were recorded and mixed.
What do you recommend for small musicians like yourself wanting to get into recording and releasing music?
I would definitely recommend small musicians releasing music and getting themselves out there. Sometimes it can be difficult to fund these things yourself but getting a band of great musicians and working together on the material can really make the songs come alive.
How did you get your music on Spotify?
I got my songs onto all digital streaming platforms through EmuBands.
What promotional tools, if any, do you use?
For promotional materials I use, Instagram, Facebook and Twitters promotional tools. It's a great way of getting your material out there, without having to spend too much.


Your voice is lovely, do you have any tips for recording vocals?
For recording vocals, the tips I'd have is really just trusting your voice. Allowing yourself to get lost in the songs you're recording/performing can really help the flow of the song. I've been getting vocal lessons for a couple of years now and I can really hear the way my voice has developed throughout each recording.

What sort of equipment do you regularly use when making music?
The equipment I regularly use is my guitars and mics. I don't have too many exciting tools to record with which is why I really enjoy going to the studio and getting to use lots of new things.
If you had to pick between a lifetime of

gigging

or a lifetime in the studio, what would you pick?




I wish I could pick both. It would definitely be gigging as I love the feeling I get when I perform songs I love. I also love the studio lots too so it's very hard to choose between the two.




What's your favourite guitar?
What would be your perfect venue to perform at?
The perfect venue for me to perform in would be something like The Usher Hall in Edinburgh. It's a beautiful venue and I can't imagine how great it would be to perform somewhere so great and close to home.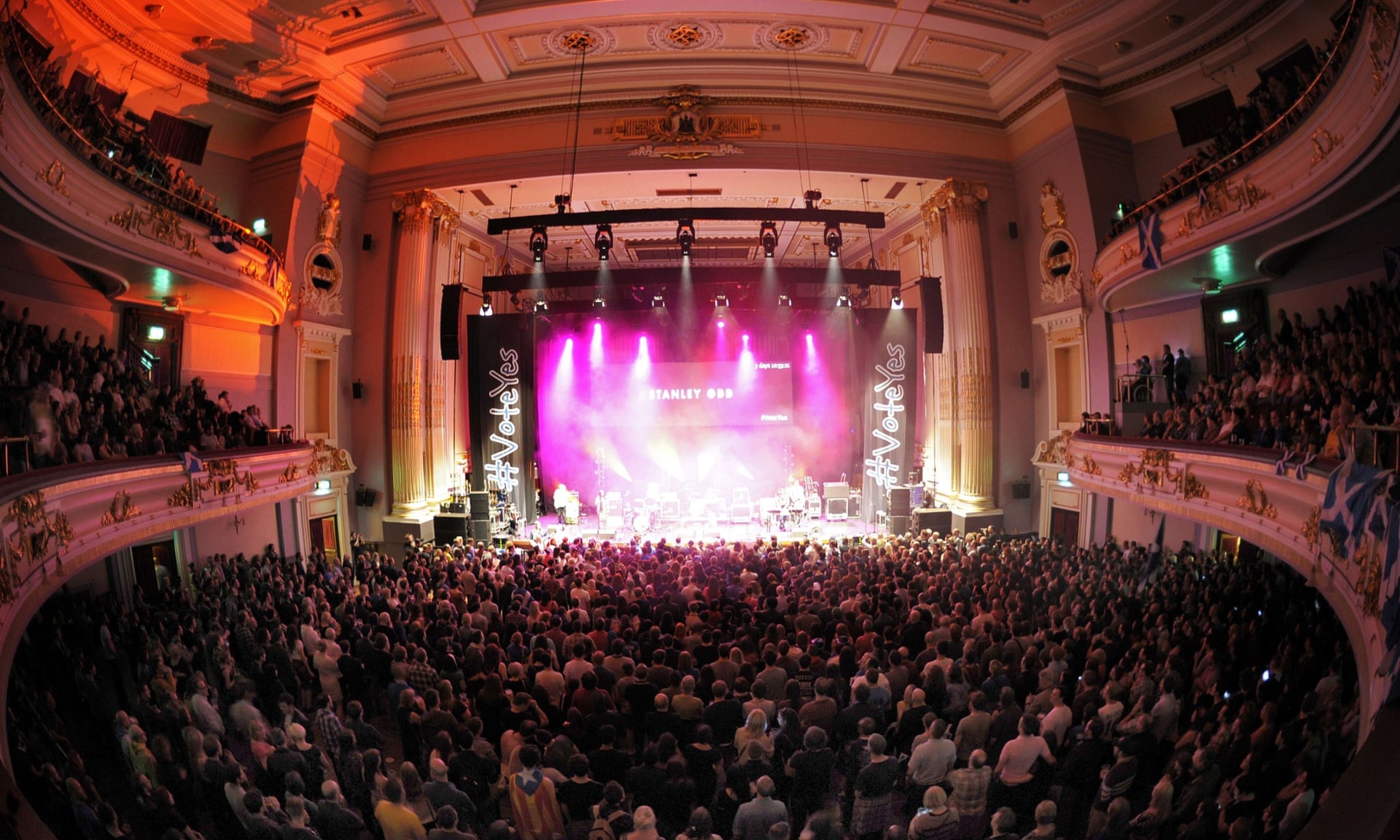 (Usher Hall, Edinburgh)
Become a Patron!